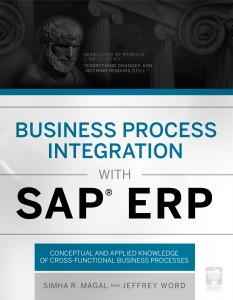 Authors:
Ordering Information: Magal, Simha R. and Word, Jeffrey "Business Process Integration with SAP ERP" 2015
ISBN: 9780985600822
Order Site: http://store.epistemypress.com/books/bpi.html
CORE CONCEPTUAL CONTENT FOR SAP ERP PROFESSIONALS
This book is designed for use as both a reference guide and a conceptual resource for professionals working with and around SAP ERP. This material approaches real-world SAP topics using an integrated process perspective of the firm. Each process is discussed within the context of its execution across functional areas in the company. Professionals will gain a deep appreciation for the role of SAP ERP systems in efficiently managing processes from multiple functional perspectives.
Designed for instructor-led, self-study & online courses in corporate learning environments.
Foundational ERP concepts for end users & project teams
Digital learning of core principles and techniques related to integrated business process execution
Real-World examples of SAP ERP "in action"
Self-Guided tutorials for critical SAP transactions in each process
Definitions and contextual explanation of key terms and concepts in SAP ERP
TABLE OF CONTENTS
Introduction to Business Processes
Introduction to Enterprise Systems
Introduction to Accounting (FI/CO)
The Procurement Process (MM)
The Fulfillment Process (SD)
The Production Process
Inventory and Warehouse Management Processes (IWM)
The Material Planning Process (PP)
Process Integration
Glossary of Key Terms and Definitions
Index
Future Additional Chapters: Human Capital Management Program and Project Management Lifecycle Data Management, Asset Management and Customer Service
Instructor Review Copy Order Form
Click here for the Overview Brochure for Business Process Integration with SAP ERP.
Click here to inquire about corporate pricing & availability.