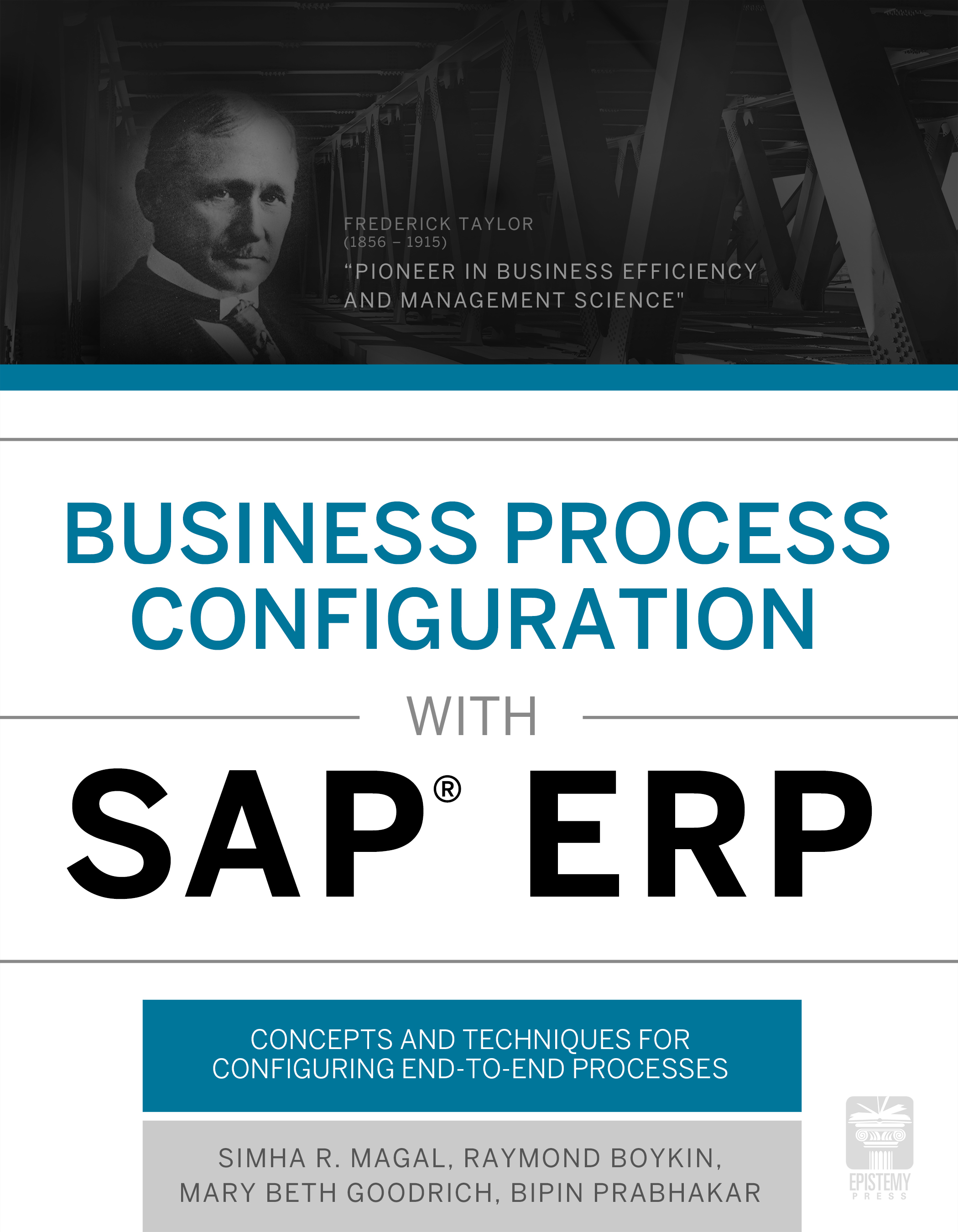 Authors:
Ordering Information: Magal, R., Boykin, R., Goodrich, MB, Prabhakar, B.,  "Business Process Configuration with SAP ERP" 2017
ISBN: 9780997209211
Order Site: http://store.epistemypress.com/books/configuration.html
Overview: This book will give students an understanding of the complexities and difficulties associated with configuring a major Enterprise System to meet the Business Process needs of an enterprise.  It will make clear the kinds of business process-related decisions that must be made and the data that must be established in such a system to make it function as desired.  In addition, this book will give students a feel for the variety of configuration options possible in an Enterprise System.  It will also familiarize students with the mechanics of SAP configuration.  As a side effect of working through the step by step configuration provided in the book, it will provide ample opportunities to develop and exercise troubleshooting and problem solving skills.
The book will cover the essential concepts, principles, and techniques of configuring an ERP System.  In addition, the focus will be on configuring end-to-end business process (e.g. procurement and fulfillment) rather than individual modules.
Audience:  This book is intended for students seeking careers in implementing ERP systems.  It is well suited for both graduate and undergraduate students in business, MIS, IT at universities that are part of the SAP University Alliances program.
Prerequisites:
An introductory course in information technology covering information systems, internet, technology enabled business, spreadsheets, databases, digital representation of data, basics of hardware and software, and business processes.
A understanding of cross-functional business processes and proficiency in the use of SAP ERP.
Suggested Course Duration: The book is designed to be the basis for a 15 week long semester covering 45 contact hours. Each chapter would be covered in approximately two, 3 hour lectures followed by take home/lab assignments. These assignments include exercises and projects using SAP ERP. Students are expected to spend between 2-4 hours a week on the assignments. Sample syllabi for various courses will be available on the textbook website. Hands on exercises in SAP tools are available for members of the SAP University Alliance program and can be adapted to other popular tools as needed.