To celebrate the launch of the new Business Process Integration with SAP ERP book, we're offering a 50% discount to everyone who downloads the book before the end of May.  Please visit our store and use the discount code BPIERP0513 to get your discounted copy.
Happy Reading!
One of our corporate elearning users posted a great blog about their experience using Business Process Integration with SAP ERP.  Thanks to Vikram for such a valuable review!
"I feel like only now do I truly have the most comprehensive functional overview of SAP ERP." Vikram Chalana CTO and Co-Founder, Winshuttle
We've finally gotting around to processing and posting the video interviews with SAP Mentors that Simha conducted over the various Sapphire and TechEd events in 2012.
SAP Mentors have deep expertise in a lot of different areas and we've tried to capture their perspectives on these areas and the careers they lead to in the SAP world.
We were able to conduct six interviews during Sapphire and TechEd in 2012 – mentors are very busy during these events, and finding time to do these is a challenge! We really appreciate them taking the time to share their insights.
Here they are, in no particular order.
Thorsten Franz explains why being in the technology industry is so exciting.
Susan Keohan discusses the use of business workflows in organizations.
Sascha Wenninger discusses the importance of systems integration and the skills needed to be an effective integrator.
Prashanth Padmanabhan explains talent management applications delivered by Success Factors.
Michael Koch explains the role of a solution architect and custom development using ABAP and other technologies.
Josh Fletcher discusses the use of business intelligence to make better decision making.
David Alzate (@futix13) tweeted out the following note and picture of him reading SAP HANA Essentials on his tablet.  Very cool.
@jeff_word I just download your book… and indeed we gotta start by breakingthe traditional rules… twitter.com/futix13/status…

— david alzate (@futix13) December 3, 2012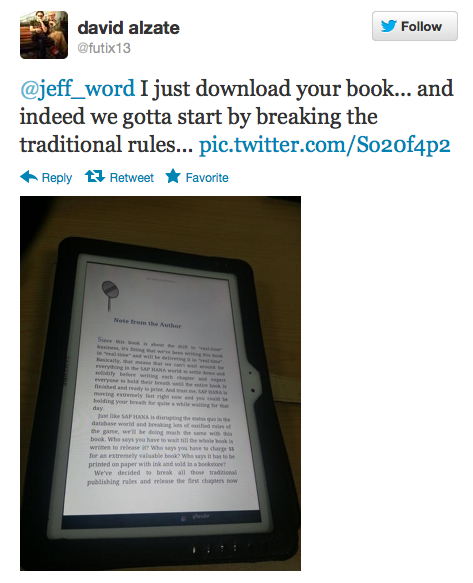 Here's a quick video update on the SAP HANA Ebook Second Edition update.
Hi There
We just wanted to let you know that the Second Edition of SAP HANA Essentials is now ready for download. We've added a new chapter on Building the Business Case for SAP HANA and updated lots of other chapters with new information, videos, case studies and links.
Please visit www.saphanabook.com and use the download code 3AF36B4E to get your free copy. Feel free to forward the newsletter to colleagues who would also benefit from this updated knowledge of SAP HANA. Make sure to sign up for the newsletters (lower right of this page) to be informed when more book updates are available.
Enjoy
Epistemy Press
SAP Mentor Alex Carvalho was super excited to meet us at SAP TechEd Las Vegas.  She insisted on taking a photo and tweeting it out to the world.  Quite happy to oblige such a passionate and super-smart SAP partner.